Who are we ?
Art... and cakes...
Artgato !
Already established for 20 years !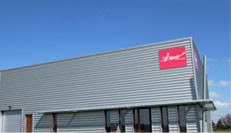 The wonderful story of Artgato started in 1993, centred around a team of professionals, specializing in cake decoration.
Twenty years later, the story is still going strong and while the company has grown, it has remained true to its original goal: to provide exceptional products for all baking enthusiasts. Whether you're a pastry cook, chocolate maker, cake designer, caterer, ice-cream maker, confectioner or even restaurant owner, Artgato is the place for you !
Creating innovative products
Quality and innovation are at the heart of our approach; it's unsurprising, therefore, that many products are made in our own laboratories. Our production site and warehouses are located in Champrond-en-Gâtine, 120 km from Paris; we design and manufacture food colourings, sugar decorations, pastillage flowers, thermoformed and silicon moulds, pastry templates and stencils etc. Our moulding workshop and in-house design studio mean that we are also able to offer a range of bespoke products.
Choosing high quality baking utensils
In addition to these bespoke products, we also have a catalogue with nearly 5,000 products, including the most extensive range of utensils and baking ingredients, all carefully selected from the best known brands. Artgato distributes high quality baking utensils and ingredients designed in France and around the world, offering the best available products from a large number of European, American and even Japanese companies. We also act as exclusive representatives for renowned brands such as Ateco, CDN, Fat Daddio's, FMM, Meri Meri and Vestli House.

Delivery in France and abroad...

In addition to a paper catalogue and a show-room in Paris, since 2007, Artgato's products have been available to buy directly on-line. Our creative culinary products can now be purchased and delivered wherever you are, whether in France or abroad.
Experts are at hand
Do you have a question? Don't hesitate to contact us !
Expertise and a warm welcome are central to our reputation. Artgato's business rationale is also, and above all, about providing a high quality service with one sole objective: understanding your needs, giving you advice and ensuring your satisfaction.
WHERE TO BUY OUR PRODUCTS ?
Find Artgato Distributors
Wholesale Program
OUR COMPANY
Selected Brands
News / Pressrom
SHOPPING WITH US
Step-by-step Online Shopping
Ways to Pay
OUR PUBLICATIONS
Catalog
La Lettre d'Artgato
Newsletter